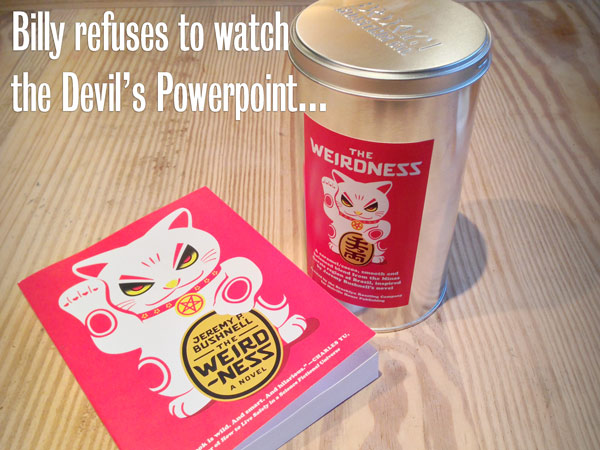 So I haven't done a book reading in twenty years. I'm not sure why. I didn't write, other than blog about my kids, for about fifteen years. Oh, wait, that's it; I had children. I didn't see any non-animated movies for a decade either. Also to be frank, people need to needle me to leave the house. What's strange is I have a great time, whenever anyone drags me to anything; play, musical event, reading, lecture, parade, fetish bar, whatever. I'm delighted to be out of the house. Which I never want to leave.
So I'll admit that when the teachers at my son's free-school invited me to a friend's reading, I assumed I'd skip it. Then Bryce, my son's teacher, read me a few pages, in which a wise-cracking youngish writer surrogate in a filthy apartment found himself confronted by Lucifer Morningstar. The Devil. And something about the quality of the protagonist's internal monolog made me want to go. So I hopped on the subway, left my family to their own devices for dinner and homework, and headed out to Porter Square.
Jeremy Bushnell's reading started where Bryce left off. The youngish (to me) Northeastern University teacher took the podium, and promised to not take his pants off at this event. There was a smattering of applause at that. You could tell there were a fair number of friends and students in the audience of twenty five or so people. Bushnell's reading was relaxed, unrushed, and thoroughly enjoyable; humorous; the heavily trodden territory fresh in his voice.
When Billy refuses to watch Lucifer's power point presentation, I decided I had to buy the book.
The second chapter was better than the first; much was made in the text of the coffee which Lucifer had brought with him, and in fact, the Brooklyn Roasting Company had created a special blend of whole bean coffee to commemorate the books launch. You can buy the book and the coffee at the same time here. 
We were told there would be a drawing, to see who won a free pound.
During the Q and A, when a bookstore employee piped up that the first person to ask a question would win the coffee, I piped up with a perfectly ordinary question which I hadn't thought worth asking. How long have you been writing fiction? Of course, the answer, for as long as I can remember. Jeremy's first novel is of course, his third or forth—not that he ever marketed the juvenilia. Published by Melville House in Brooklyn as general fiction, we spoke a bit about genre labeling and the rich world of stuff wedged halfway between traditional genre categories and literary fiction.
"There's a huge space, there, I think," Jeremy said. "I don't care where I'm shelved, really. I love fantasy, and fantasy tropes. But what I'm doing with these characters run's deeper, than what you see in most fantasy."
I sensed no animus in the statements, not a whiff of condescension, and instead of being offended I got what he was saying. As a BFA without a lot of college level English under my belt I have felt, to a degree, like a naif, as a writer, aspiring primarily to entertain, and then, uncontrollably making art, sometimes difficult and sometimes crappy, instead. Some of the negative reviews of my stories in Asimov's has made me wonder, at times, what the hell is is I'm actually writing. Or trying to write.
At any rate, I look forward to finishing the novel, and drinking the coffee.
God it's great to get out of the house.