A traditional liberal-progressive handwringing over the horrors of geo-engineering appeared in the NYT yesterday. As a hand-wringing progressive liberal, the piece irritated me, as it cleaves through the center of my political ideology vis a vis climate change and greenhouse gas emissions. The piece is dead-on. If anything it understates its thesis. Geoengineering is horrifying. But of course, as most MSM pieces, it also understates the degree to which we are already completely screwed by the carbon already trapped in our atmosphere–and the carbon represented in the already mapped fossil fuel reserves which  make up the bottom line of the stock prices of many of the worlds largest companies.
Like the most profitable company in the world, who we give billions in tax breaks to look for more of the product which makes them rich—a product that will kill us all, if we don't start using much less of it, immediately. Or better yet, five years ago.
Think about how fucked up that last sentence is.
If we burn more than a quarter of the reserves already mapped, we will destroy civilization.
And we subsidize the most profitable company on Earth with our tax system so they can find more.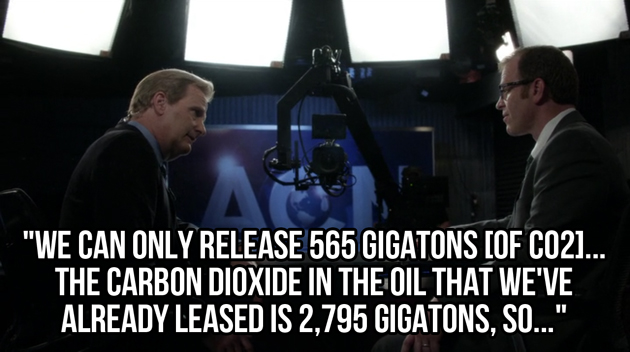 Now think about arctic methane catastrophe, and read this article if you don't know what that is.
In this thing liberals, who are often good at handing out bandaids and incrementally improving situations with shitty compromise workarounds, see the perfect as the enemy of the good. Perhaps emboldened by the belief that another progressive era is somehow just around the corner, that the zeitgeist hasn't over the last thirty years slid five time zones to the right.
Liberals who scoff at the idea that knowing about contraceptives might lead to more sex are adamant that knowing about geo-eningeering will make abatement impossible.
Here's the thing; for CO2 abatement to reach the levels we need it to in the next few years, we basically need be living in a just world. Because cold people burn things to stay warm. Starving people dig money out of the ground, if you have maps of where that money is buried. Greedy people do, too. And we've made the maps already.
I'm all for a just world order; but the time to construct that order will not be while said world falls apart, which it is going to do in the next decade or two. It's too late to pretend we are a mature species. We are crammers. We are the species that plays video games nonstop until a day or two from finals. We are the species that makes new years resolutions and abandons them a week later.
We are a species without grownups. Our elites lack the capability of long-term thought or thinking.
The people who own this planet, who have concentrated wealth in a tiny fraction of the world's populace, back political movements which undermine the basic infrastructures of the societies they harvest for their wealth. Our elites no longer support the building of roads and bridges, railroads or transit systems, dams or power grids. Our elites think they can re-invent public education on the cheap by union busting and increased use of the gizmos they make and sell.
Our elites are deranged.
In MA, our fuckwad GOP governor, who as a manager of the big dig added billions to the MBTAs debt in cost overruns, just blamed the current failure of the MBTA not on resource depletion, lack of investment, but on bad management. Because, you know, acknowledging that the system was underfunded would mean tax hikes.
I'm not HAPPY about plan B, anymore than a parent is happy about a sexually active 15 year old child, but geo-engineeriung and birth control are wonderful things in worlds that turn out to be sub-optimal.
Like ours.