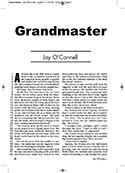 So I spent a month this year detoxing from Social Media. It was painful but I thought I'd learned some lessons, about how I would work with it going forward.
Yeah. I was fooling myself. The election… and since the election…
Yeah. I fell back in.
I wrote an article for the SFWA journal after the social media fast, and I stand by what I wrote. Now I just have to live up to my own standards.
I've written more words this year than any year in my life; most on a failed trilogy… but let that go… I've placed three shorts for next year, and had my longest work, "What We Hold Onto" appear in Asimov's, had my first story go live this month in Galaxy's Edge, and broken into Analog, with two of those three shorts. I've included a thumbnail of the galley, too small to read the text, just because, OMG, I'm gonna be in Analog! Not sure what issue! I'll ask!
But the reality is, I'm here, now, twitching and jonesing, wanting to immerse myself in news, which only makes me miserable and toxic, which causes me to spew rants which I give away to fund Mark Zuckerberg's little facebook project..
because he needs me working for him. For free.
So. I'm committing to doing a morning a week with like-minded people engaged in political activity aimed at preserving our core values.
And I'm committing the rest of my life, to the also political act, of trying to make my art, make my fiction, find the future in myself and make it sing. And if possible, dance.
Late in the day, today, to be saying this, as I lug my portable office out to a cafe to write, but better late than never. late in life, too. But life is full of second acts; third acts, the story not over until that fat lady sings.
Do your work. Be true to yourself. Fight for what you believe in. Figure out the order for yourself. It's what we're here to do.