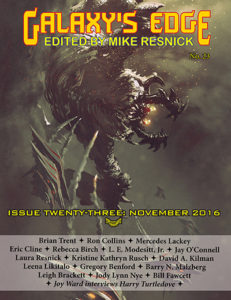 So I really really love this story, and was glad that it was available on-line for a month. Most of my stuff has been in Asimov's, F&SF, and Interzone. For those that missed the story when it was on-line, the issue is for sale at amazon as print on demand here. 
This magazine combines stories by newer writers with reprints from giants in the field, (and original stuff by giants, too). It's edited by Mike Resnick, the most award winningest editor in the history of genre editing. I'm happy to be in here!
I tweeted something like "The Singularity! Sex! Fundamentalism!" because those things swirl around this story; it's a profoundly weird little tale which came to life as I wrote it in a chilling way, the characters speaking very clearly in my head. I was barely able to steer this thing.
I dig the other stories in this issue as well, some by friends of mine. It's really a great publication.