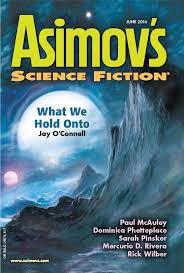 So, my novella "What We Hold Onto," made it into the top five novella's in 2016 in the Asimov's Reader's choice awards, which is wonderful, so the magazine has made it available for free download as a PDF. The reasons magazines do this is so the stories can be considered for awards by people who don't subscribe; of course, on-line SF magazines like Clarkesworld and Lightspeed and Strange Horizons don't have to go through this extra step; all their stuff is already readable on-line.
The Nebula award gets around this problem by making free downloads available to members of SFWA in private SFWA forums; the  Hugo, being a fan award, demands content outside a firewall to be considered by the whole SF reading community, not just a single magazine's subscriber base.
On the plus side, in this paper system your Hugo reading list is curated by the readers of the magazine. These stories are already award finalists. On the downside, Stuff in the paper magazine now exists outside of the twitter FB blogosphere ecosystem, which increasingly, in the sharing economy, is how most intellectual property is discovered, found, and monetized.
Books still make sense, longer form content; discussion forums and comments and blogs and author interviews can point at the monetized text, with excerpts and commentary sending up enough of a flare to make the walled off content viable.
Short fiction is a tougher sell; flash fiction is great for screen-reading, it's sort of an evolutionary adaptation to the digital age's fractured attention span. Stories in the 4-10k word range (10 to 25 paperback book pages) range really need to live with other stories to a sale-able thing, though the flexibility of the modern ebook has breathed new lives back into the novella; slender volumes at latte prices that could never stand along in a bookstore sell and read quite nicely as ebooks; TORs innovations along this line are a hopeful spot in the world of publishing.
Which is a super didactic and long winded way of saying, OMG PLEASE READ MY STORY PLEASE OH GOD IT'S FREE READ AND IF YOU LIKE IT PLEASE VOTE FOR IT FOR THE HUGO AWARD BECAUSE THAT WOULD MAKE ME SO HAPPY…
Ahem. (Visualize me tucking my eyes back in my head and wiping the spittle from my beard.)
This is the spoiler free post; I'll tell you that the novella is set in that 50-100 years in the future window that I love which so many people don't, and which I've been told not to write novels about, by people who know of what they speak.
So, read it, and then, tomorrow or the next day, I'll post a 'SPOILERS! post where I talk about what the story is about, really, and you can talk to me about it. Please do. Please. Don't make me go into all caps again, okay?