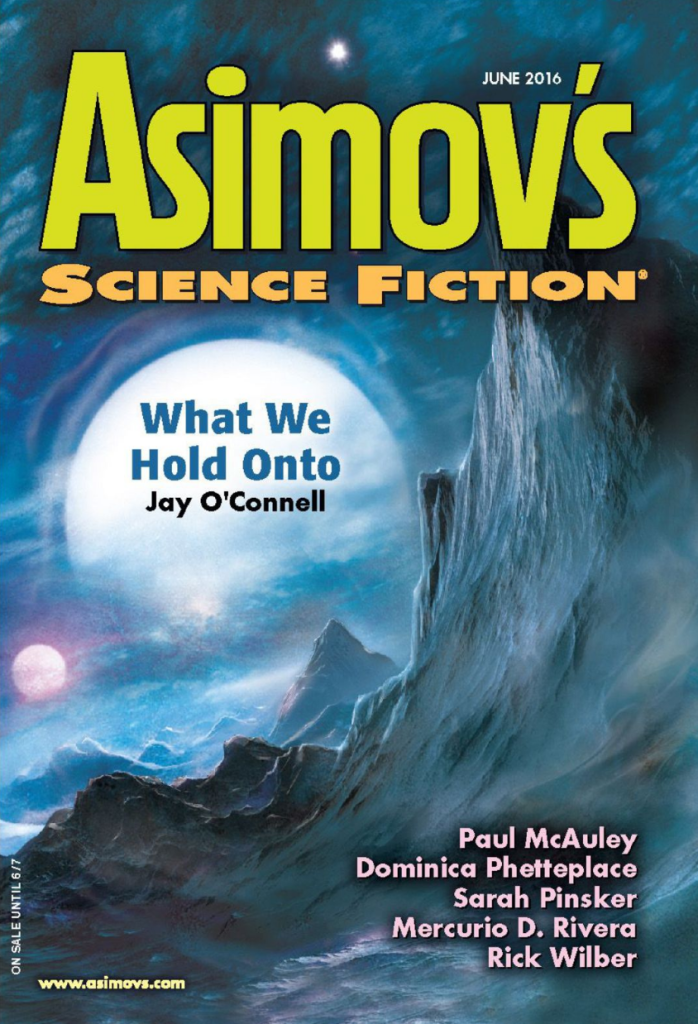 So, this issue of Asimov's isn't on the stands yet, I'm guessing, but you can get it on your kindle here.  You can also buy it from Magzter. If you haven't read Asimov's, or haven't read it lately, I suggest you do a free trial.
Read my novella, "What We Hold Onto," —and the rest of the issue, because Asimov's stories rock. The Editor, Sheila Williams, has won the Hugo award twice, and is up for it again this year. She deserves to win.
She changed my life, a few years back she bought a few of my stories, and her unwavering support has made all the difference. I write now knowing that I've got a decent shot at publication, if I give it my all.
I'm in a different place now, than I have ever been.
I've had a bunch of wonderful editors buy my work over the years; Charlie Ryan, Warren Lapine, Ed McFadden, Patrick Swensen, and lately, Gordon Van Gelder, C.c Finlay, and Michael Resnick. But something happened, a few years ago, and I think, maybe, I've gotten better at this.
I'm desperately trying to be in this moment and realize, I'm here; I'm being waved in for a landing.
If I want to write novels, theres a chance one might sell.
If you're lucky in life, you set out to do something hard, that not a ton of people achieve, and you work hard, and you do it. And it feels good. Maybe it takes a year. Maybe it takes five.
Maybe it takes twenty. But you get there.
And you work hard along the way and you make friends. And you help them get there, too, because even though they're your competition, in one sense, they're also the only people, who know what it is, to do this thing.
So maybe you find out eventually that the thing you always wanted to do is a thing you can do.
If you never give up.
Never give up.
Never.
Ever.
Give.
Up.
You'll watch people ten, twenty, thirty years younger, hit your milestone, and you'll be happy for them, and you'll try not to be angry at yourself, for giving up, for so long, for not trying harder, for giving in to despair. Oh! So much despair.
For letting go of the dream for five or ten years at a time…
But now is a time for celebration and forgiveness for Not Living Up to One's Potential. I know time is no longer on my side. Men my age keel over and people kinda shrug; as Louis CK said, there are no candle-light vigils for people dying in their 50s. So I have to get cracking. And I am. I am.
Anyway, I'll be posting about this issue a crap load of times. This is just the first post. This is the longest piece I've sold; the longest piece I've written.
I hope you like it. I worked as hard as I know how to on it.
It was also effortless.
The way something you love is effortless, even when it's more work than you ever imagined.
Excelsior!