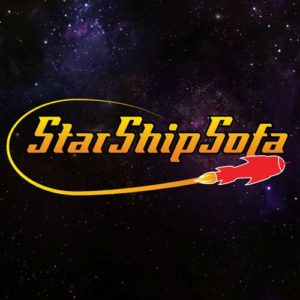 So this is live now, and I have to say I really like the reading by Ralph Ambrose. The interview with Rob Boffard is interesting, it makes me want to check out his trilogy published by Orbit.
I'm really impressed by the whole team at Starship Sofa and I'm so glad to be in the archive with over a hundred other writers; legends from the 40s, 50s, 60s, 70s, 80s, 90s, 00s, and ah, teens, or whatever you call now, and people like Ken Liu and Ted Chiang and Nnedi Okorafor.
So it's a huge honor, to be in this thing, and it's so fun, to hear someone else interpret your story, and get it right. (With the exception of a single made up word that is super hard to pronounce. I forgive you, Ralph. Nanocalpyse isn't exactly the same as nano-collapse, but I dig that you knew what I was talking about! It's a neologism for the nano-tech apocalypse, which is the background for my Zeitgeist stories, a cycle of stories which take place in a post scarcity, post singularity world which will feel familiar to players of video games.) So Ralph says nano-collapse, twice, and the third time says nan-noc-cal-lips, that's one thing, he's talking about, the dawn of the Zeitgeist, the deal brokered for humanity by a dozen tech billionaires with the superintelligence(s) which emerge, abruptly, and remake the world…
So people, go check this out, and consider supporting Starship Sofa. They're starting to pay authors (most of this content was donated; my story was) and the production values are good. They deserve support!
Listening is free, though, so please, listen!