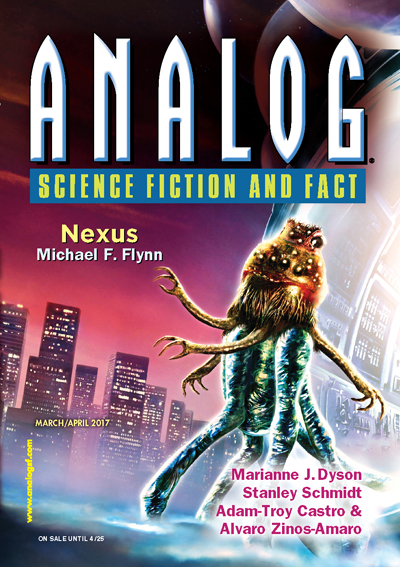 A ton of names I know in this issue which I will start reading tomorrow. I'm Facebook friends with a half dozen or so of these folks. Adam-Troy Castro I'm familiar with in a few ways, as a reviewer at Fantastic and I've read an antho of his short stories. I did a signing with Jay Werkheiser a few years back at the Brooklyn Book Fair.
They left out my author's bio… maybe I was late getting it to them? Oh well. Hopefully the next story will have one. Or maybe even get my name on the cover!
I can dream!
Grandmaster, the story here, is an odd little thing which leans on a deep knowledge of the history of SF, but it works to a degree even if you don't have that background.
Anyway, I'm honored to be in the descendent of the late, great John W. Campbell's Astounding; the magazine where Asimov's robots and Foundation were founded, where Robert Heinlein's Future History was laid down, where so many of the foundational texts of the genre were published.
This completes my print mag hat trick, Asimovs, Analog, and F&SF.
I've snuck into all three now without creating much of a splash, but damn. I got there. Twenty years late, maybe, but I'm not dead yet.
Technically.